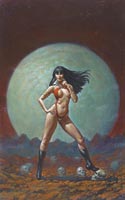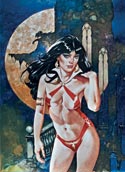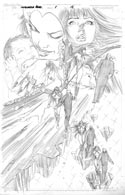 New York (September 1, 2005) – This November 9, Vampirella Revelations #1 kicks off the epic maxiseries event that redefines Vampirella forever! To celebrate, the issue sports two covers representing the best of the character's artistic heritage. Jose Gonzalez, hailed as Vampirella's greatest artist, returns with his first cover in decades. Mark Texeira pays tribute to the original Vampirella #1 with a modern re-imagining of that book's classic cover. The issue is available to order now in September Previews.

"The era of the so-called 'bad girl' is over. Done. Dead," says Harris Comics editorial director Bon Alimagno. "Sure, she'll still be easy on the eyes. But now when you think Vampirella, think horror, think epic fantasy, think of stories that'll make you laugh and cry and shiver all at once. Long-time fans will remember that's the way Vampirella was. Now that's the way she will be again. Yet, even if this is your first Vampirella comic you won't be lost, really you're getting in on the ground floor! Whether you've been a Vampi fan for five years or thirty-five years, this book's for you."

Written by critically acclaimed writer Mike Carey (Lucifer, Hellblazer) with gorgeous art by rising star Mike Lilly (Nightwing), the book is the first in a three-part arc streamlining Vampirella's origin and reshaping her character.

Coming out of the events of September's Vampirella Revelations #0, Vampi's confused and desperate for answers. She turns to a mystic to unravel the tangled threads of her origin. He takes her on a journey to hell and back, deep down into the murky waters of her past - her real past. What she finds brings her face to face with her mother, her home, and the very moment of her birth.

Issue #1 is full length, full color and ships with two regular covers that may be ordered separately, one by Texeira (SEP052711) and one by Gonzalez (SEP052712). For collectors, each cover will also be available as a Limited Virgin Edition with no logo or text obscuring the art (Texeira Edition under SEP052713; Gonzalez Edition under SEP052714). The series will be supported by coverage on major pop culture newssites and in leading comics and horror magazines including Rue Morgue and Fangoria.