eBay the Vampirella way!
By Mike Grace

A TRUE FANíS TESTAMONIAL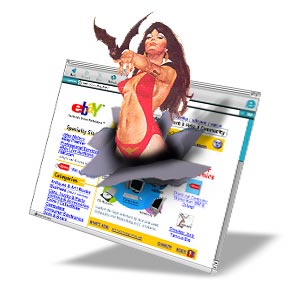 If youíve ever wondered what the mysterious word ďeBayĒ is on the site, but have never taken the plunge, then you are seriously missing out. eBay is quite simply the first and best auction site on the web. You can bid on everything from antiques to pajamas to zippers, but best of all, itís an outstanding place to find Vampirella items!
I originally discovered eBay through Vampirella.com and it was a dream come true. I immediately started bidding for some of the alternative covers I was missing and, more importantly, found out there were quite a few I didnít know about.
After my first few visits, I started going for the rare and really unusual items. I began the hunt for the original Jose Gonzales six- foot-wall-poster that is still one of the best images of Vampirella around. I completed my collection of the alternative Buzz covers for the Mystery Walk Series (Vengeance of Vampirella 14-19) Ė a real boost as Iíd wanted them for so long. Another real find was the Vampirella Magazine#113, the very first Harris edition that is nearly impossible to find anywhere else. My all-time eBay highlight was acquiring the Vampirella Blood Lust exclusive platinum hardcover, only one of 25 copies originally produced by Harris.
TAKE A BITE INTO THE BIDDING!
eBay works because itís simple, itís fun and itís dead easy to find exactly what youíre looking for. There are no complicated procedures to learn, no special qualifications necessary to participate, and the best partóitís absolutely free to bid on any item you like!
Despite the fact I have a pretty complete collection now, I still go on the site once or twice a week, and keep finding new items. Of course, eBay isnít just for pricey rare issues óif you just want to inexpensively complete your collection, nearly every Vampirella comic ever published is available for a great price.
LETíS GET STARTED!
Youíll need to
register
to start bidding (theyíll ask you only for your e-mail address and some basic info, nothing too invasive), and then youíre ready to go! Click on ď
eBay
Ē at the right of the Vampirella.com home page to go straight to every item Harris Comics has currently placed up for bidding.
Just scan the listings, spot that Vampirella item you want, enter your bid and if youíre the top bidder by the auctionís end, youíve won! eBay will quickly notify you of your win, Harris Comics will e-mail you ordering information, and pretty soon, your new Vampirella item arrives in the mail. Each auction lasts about a week, and even if you donít end up as the top bidder, itís easy to try again with a new auction.
(Of course, if youíre having trouble getting started at first, eBayís web site provides plenty of excellent
help pages
!)
WHATíS UP FOR BID?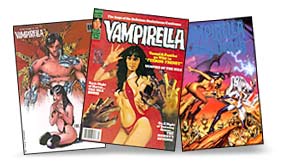 While the majority of Vampirella items up for bid are comics (including those rare variants), there are a lot of other great offerings continually cropping up. Youíll discover new Vampirella items you didnít even know existed -- original art, statues, trading cards, models, badges, buttons, promotional posters, chrome flats, comic variants, signed books and on and on. The variety is tremendous.
As part of their ongoing, official eBay program, Harris Comics offers for bid each week a huge selection of alternative covers, cards, and all sorts of miscellaneous collectible items. These items range from the newest release to items found deep within the mysterious Vault of Vampirella! Harris also offers tons of great eBay-exclusive items ó for example, Harris Comics recently auctioned all the original art pages for Vampi #4 drawn by Kevin Lau, a real bonus for fans and a rarely-seen offer.
And if youíre a bargain hunter, look for the weekly Vampirella ďMega LotsĒ ó a batch of back issues bundled into one lot for amazing value. Scarlet Legion members even get free shipping!
WRAPPING IT ALL UP
eBay is a great way to find rare Vampirella collectibles and missing comics to help you complete your collection. You make a lot of friends on eBay, almost everyone is real nice, and it can be exciting and fun. The folks at Harris Comics are always willing to help out with your eBay purchases and, most of all, the entire process is so easy. So go get started ó your Vampirella collection will never be the same!