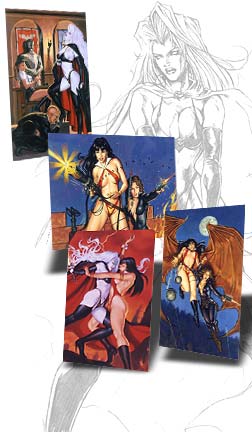 Vampirella /
Lady Death II
Coming January 2000!

Bring in the new millennium with the most anticipated rematch in comics history when Vampirella and Lady Death face off once more! Their last battle ended in a stalemate...this time a major character will die in the conflict!

This will not be an imaginary story or some out of continuity tale. Vampirella / Lady Death II is the REAL DEAL!

Vampirella / Lady Death II will be fully painted by the blistering hot Dorian Cleveanger, the first-ever Harris crossover to receive this pristine treatment. Here's a sneak peek of Dorian's first batch of pages for this blockbuster book!
(click on images for a larger view)

Lady Death will make a special prelude appearance to the crossover in Vampirella : Dangerous Games #2 shipping in December. Check out Kevin Lau's incredible first rendering of Lady Death. Don't miss out on this crucial chapter in the crossover.

Look for a special Vampirella / Lady Death II: the Revenge Limited Preview Ashcan to hit stores in November. This one will sell quickly — don't miss out!

Vampirella / Lady Death II is available now for pre-order from local comic book retailers.
To locate a comic shop near you, call toll-free 1-888-ComicBook.

---

Copyright © 2010, DFI. All rights reserved
VAMPIRELLA™ and all other characters are trademarks of DFI. All rights reserved.
Advertising Sales | Contact Us |
Terms of Use
|
Privacy Policy