Click on images for larger images.



Vampirella superfan Terry Sanders of LaGrange, KY, recently emailed his convention thoughts to us at vampirella.com:


"I really had a great time at the Chicago con this year, and a large part of it was because of the folks at Harris. As soon as I arrived at the con, I went straight to the Harris booth to see what was going on. David Bogart [Harris Comics editor] must have remembered me from last year, because I had no more than walked up when he came over and asked me if I'd be the Harris photographer for the con and shoot a few pictures. I probably screamed "SURE!!! When do I start??"




It was the opportunity of a lifetime — a VERY beautiful woman waiting for me to take pictures of her! I shot about five rolls of film with this very beautiful Pantha model. She is not only a very beautiful girl, but she was a very nice person (and my wife didn't even get jealous!) Thanks to all the folks at Harris, I had one very memorable and fun convention experience.

A Vampi fan forever,
Terry Sanders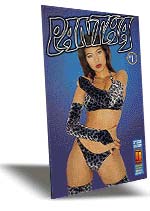 This limited Pantha Convention Photo Edition was offered at the Chicago Comic Con — it will also be available at the upcoming San Diego Comic Con from August 11th to the 15th. Hope to see you there!



Special thanks to Terry Sanders for sharing his great convention photos!