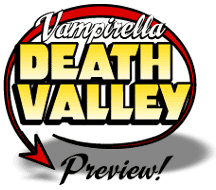 By now you have witnessed the shocking conclusion of Vampirella / Lady Death: The Revenge: Brutally stabbed by Lady Death with the Spear of Destiny, Vampirella's soul has been cast into the Nexus of All Things!

Vampirella might not have much of a future left...but she still has her past! In the stunning new Vampirella: Death Valley story arc, Vampirella finds herself cast back into the 1960s!

Vampirella: Death Valley is a two-part story arc written by David Conway and masterfully illustrated by Kevin Lau. Check out some of Lau's preview pages below — then get the comic, in stores now!